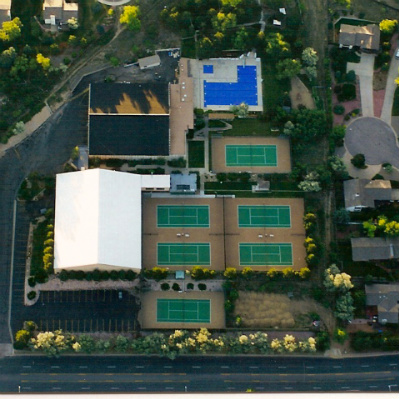 You can now follow us on Facebook....

(see below)
Established in 1965, the Colorado Springs Racquet Club has earned a reputation as one of the finest tennis clubs in Colorado. This, along with the beautiful outdoor swimming pool, makes the Colorado Springs Racquet Club a great choice for you and your family. A limited membership allows every member to get maximized enjoyment from the outstanding facilities and programs. Several categories of memberships are available on a limited basis. Choose the one that best meets your needs.
From its hilltop location on Colorado Springs' east side, the club boasts one of the city's most spectacular views of the front range. The facilities, covering more than 7 acres, include:
Six outdoor tennis courts and four indoor tennis courts

25-meter heated swimming pool with diving area and diving board (Seasonal)

Indoor racquetball court

Separate locker rooms for swimmers and tennis players

One indoor and one outdoor (seasonal) whirlpool and sauna

Exercise room for weightlifting.

Tennis Pro shop offering finest in tennis equipment tennis racquets,and tennis apparel

Lounges, snack bar, and picnic areas
A full staff is on hand at the club to aid members in making the most out of their recreation hours. A club manager, a full-time tennis pro, a pool manager, a swim coach, and summer swim instructors all make member's enjoyment their major concern.
If you think you or your family would like to join the Colorado Springs Racquet Club family, just come by anytime for a visit. You'll love the friendly atmosphere and active tennis and swim programs offered at the club. Discover the Colorado Springs Racquet Club- and make it your home away from home!
"Building Family Memories Generation After Generation"
Family owned and operated. Keep your tennis investment in Colorado Springs!
You can now follow us on Facebook....
https://www.facebook.com/#!/cospringstennis?fref=ts